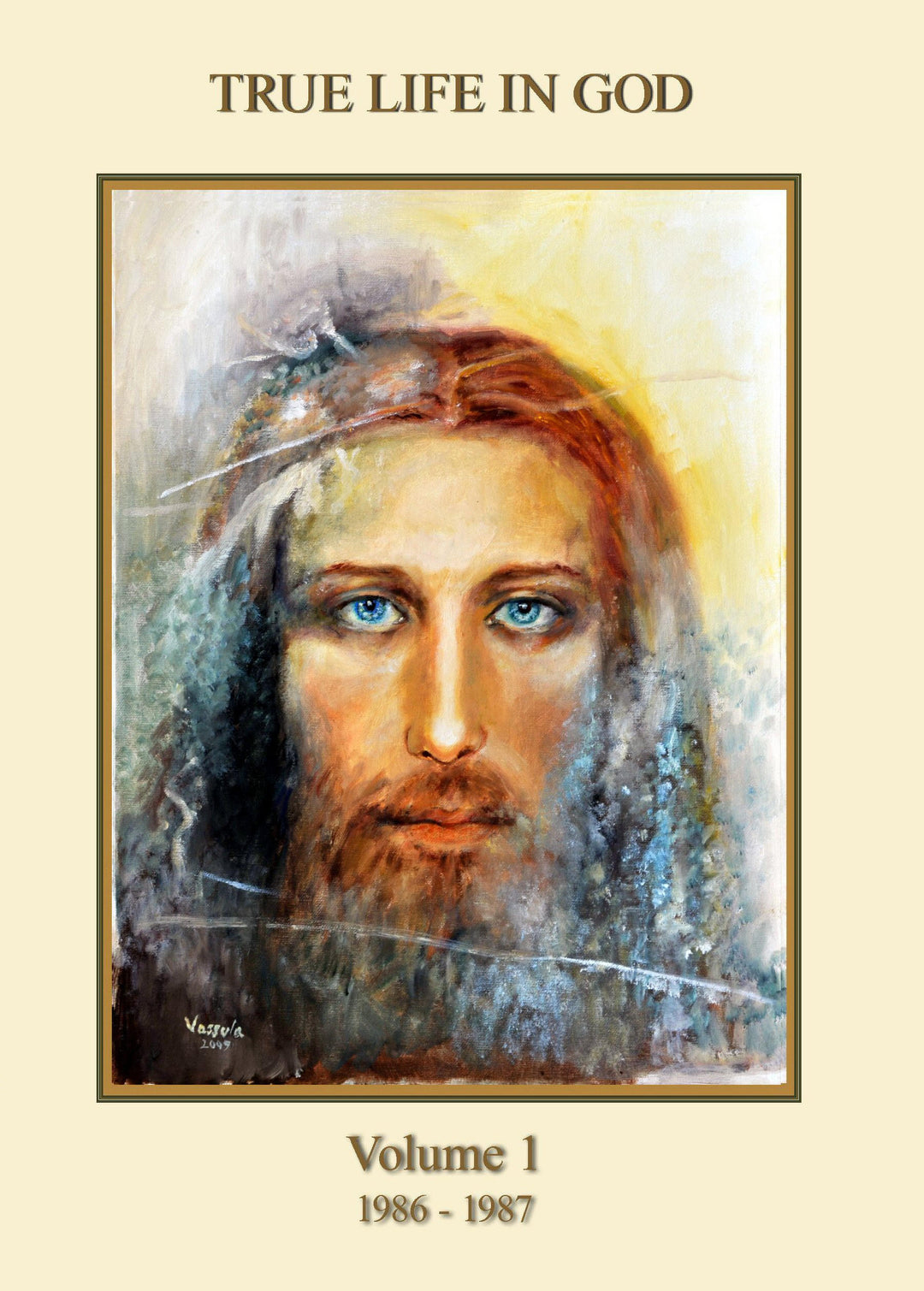 True Life In God Introductory Volume ( 1986-1987)
---
In stock, ready to ship

Inventory on the way
177 pages, 6x8 inches
Messages from 1986-1987. A great place to start for those who have not read the Messages before. It is also a great gift to give to people as a starting point before diving into the full body of work - Volume 1 (1986-2003) and and Volume 2 (2003-2021).
The Messages of True Life in God are a call to our real foundations and a reminder of His Word and of His existence. As God Himself told Vassula: "Tell them that this message is not given to them to draw sensation, but to make them realize the urgency of their conversion, the gravity of the condition of their soul, the importance of changing their life and live holy."
What is striking in these Messages is the tenderness of God He shows towards us, revealing His infinite goodness and mercy. The description given by Christ on God the Father, gives us a good summary of His portrait: "My Father is a King, yet so motherly, a Judge, yet so tender and loving. He is the Alpha and the Omega, yet so meek."
In these messages God is trying to revive in us what is dead. This is why He pours out His Holy Spirit on us to bring us back to Him, to live a true Life in Him. He promises us that soon there will be an outpour of the Holy Spirit on humanity, such as never before in history, that will transfigure the whole earth. This is the hope we are all looking for.
When God speaks in the Messages of True Life in God we do not fail to notice the tone of hope that He is giving us. Yes, He would reprimand us many times, since He is Father, and like any father reprimands his children when they do wrong, so does our Father in Heaven, but He does it with love for He is Love and He created us out of love to return this love to Him.
These messages reveal God's intimate image towards His creatures and what He asks from each one of us is to become intimate with Him too so that we get to know Him. Nevertheless, He reminds us never to forget that He is Holy and asks us to put into practice the "fear of the Lord", too.
Why is God so anxious to reveal Himself so powerfully again in our times if it is not so that He saves us? When He says in one message: "I look at the earth today and wish I never did … My eyes see what I never wanted to see and my ears hear what I dreaded to ever hear! My heart, as a father, sinks with grief. I fashioned man to have My image, yet they have degraded themselves and today so many of them have taken the likeness of the beast! (the devil). My heart pains me, for I see to the ends of the earth and what I see is not according to my heart's desires … your Father rules everything, but not your freedom, and man has perverted his freedom…"
There are MANY other themes as well.  For more information, visit the Official True Life in God website.
Vassula writes .....
                                                      Welcome
                                    To the praise of Jesus and Mary
In reading the messages first, read Volume I or My Angel Daniel first, then follow the books in order so that you become immersed in God's Love for you. You will understand, while reading from the beginning that God is calling you to an intimate relationship with Him.
Jesus Christ asked me to tell you always to take my name, Vassula, out of the messages and replace it with your name. You will hear Him then speaking to you, reanimating  your soul to move,aspire,and breathe in His Glory. God will draw you very delicately into His Heart so that you no longer belong to yourself but to the One who moves you in union with their Oneness ( The Holy Trinity).
I want to thank  everyone who supports and helps diffuse these messages. Jesus said on several occasions: "My message saves souls." Let everyone who is moved by the Holy Spirit become witnesses of God's infinite Love. May you, too, become a disciple of these end-times.
Use collapsible tabs for more detailed information that will help customers make a purchasing decision.
Ex: Shipping and return policies, size guides, and other common questions.